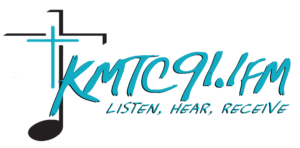 KMTC RADIO 91.1 FM
Keeping You More Than a Conqueror
24 hours a day with teaching, Christian music as well as special programs for children and adults
TEACHING SCHEDULE
Living Faith – Russellville Christian Center
Everyday – 1:30 am, 7:30 am and 4:15 pm
Our Finest Hour – Jerry & Dan Zirkle
Practically Speaking – Tim Brooks
Weekdays – 2:15 am, 8:15 am and 3:15 pm
Concepts Of Faith – Charles Capps
Weekdays – 2:30 am, 8:30 am and 3:30 pm
Legacy Radio Broadcast – Jeremy & Sarah Pearsons
Weekdays – 9:05 am and 5:05 pm
Focus On The Family-Family Minute
Weekdays – 6:30 pm
PROGRAMMING SCHEDULE
TOP 10 WITH LEN Friday nights at 10 pm and Saturday mornings at 10 am gives you the latest information in Adult Contemporary Christian music.
POINT OF VIEW Talk show airs Weekdays 1 to 3 pm
ADVENTURES IN ODYSSEY Weeknights at 7:30 pm
KIDS AT HEART
Saturday 8 to 10 am is all about the kids.
DAY OF PRAISE Sunday – full day of praise and worship.

Melissa Krueger
Station Manager
Melissa has been with KMTC for over 23 years, starting out as a part-time DJ, then "Morning Mom" and now station manager.
Our other on-air DJs include: Jodie, Michelle, Truck (Terry) Stevens, and Len who has done the "Top Ten With Len' for over 10 years.
For assistance or questions contact: